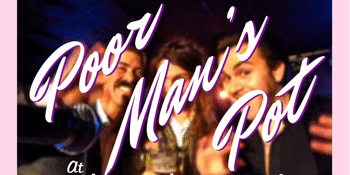 The Brisbane Hotel
Poor Mans Pot: New Stories
Brisbane Hotel (Hobart, TAS)
Sunday, 27 September 2020 7:00 PM
Poor Man's Pot presents "New Stories"
Tasmania's most vivifying variety show is blossoming with new stories at the Brisbane Hotel. Combining comedy, music, storytelling, improv, and general confusion, each episode of Poor Man's Pot is eclectic and impossible to repeat and so hard to explain that you're better off just coming to the show to find out what it is.
Join hosts Daniel Townsend (song man), Bert Spinks (story bloke) and Reece Lyne (suit lad), along with a our cast of special guest performers, as we share tales from Tasmania and around the world.
This show will be at the Brisbane Hotel. You can be in the audience, or, if you're not in Hobart, you can watch a highly-produced stream live.
--
Live Show -- We are so excited that we get to have punters in the room and we'd really love it if you made the most of the opportunity! We'll also be delighted if you buy tickets beforehand - there will be plenty of room for attendees, but having a rough idea of how many will be in the venue helps us set the room up as per current restrictions. Doors open at 7p.m. and the show will be underway at 7:30p.m.
Live-Stream -- You don't need to buy tickets or even get dressed, but we recommend clicking the 'Going' button to make sure you don't miss it. We'll be saying g'day from the live stage to anyone watching from afar, so please join us in real-time if you can!