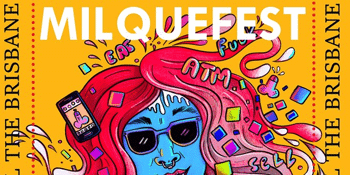 Milquebath and The Brisbane Hotel
MILQUEFEST 2020
MILQUEBARTH (A/V Show) - John E DEBUT - SteezE - Baltimore - Elektronik Girl Epic - Tai Harlii - Storm Worm - Pearly Whites - Hayato - Coward Punch - Milquebarth (Rebirth Show)
Brisbane Hotel (Hobart, TAS)
Friday, 13 March 2020 6:00 PM
Milquefest 2020

Milquebarth and The Brisbane Hotel invite you to 'MILQUEFEST 2020' on Friday 13th of March

Organised and curated by the always erratic and expendable 'MILQUEBARTH', Milquefest will be a beautifully musically challenging experience hosting all local acts and artists over the one night for a full pub takeover.

Acts Include - MILQUEBARTH (A/V Show) - John E DEBUT - SteezE - Baltimore - Elektronik Girl Epic - Tai Harlii - Storm Worm - Pearly Whites - Hayato - Coward Punch - Milquebarth (Rebirth Show) + MORE TBA
Milquefest begins at 6pm in the beer garden and then will proceed into the front bar and back bar and go through till the early morn!!
AAA passes and ATM's for everyone!

Take the ticket and enjoy the ride. $10+bf or $15 on the door. If you are coming in for happy hour it's $5 bucks entry, and if you want to stay on after a taste of whats to come from seeing the beergarden show you can pay the difference at the door.

Dress to impress, bring your broomstick and all of your toys (NSFW Included)